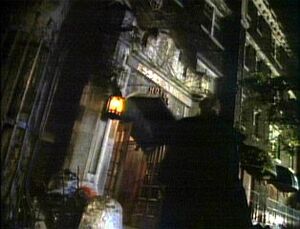 In "Feeding the Beast", Nick Knight goes undercover at a Twelve Steps program in the hopes of discovering the identity of a murderer. His sponsor, Monica Howard, initially seems no more than helpful and friendly; but Nick eventually realizes that she is a sex addict who, contrary to the program's rules, tries to seduce the other people who attended meetings.
When he rejects her, Monica picks up a stranger and goes to the Windsor Arms Hotel. Nick eventually follows her there and persuades the clerk to tell him her room number. Inside the room, he finds a dead man—and Monica in hysterics.
The Windsor Arms Hotel is at 18 St. Thomas Street, a side street in the Yorkville area (a centrally located, upscale shopping and dining district). It was built in 1927 by William Arthur Price as a luxury hotel. However, after over a decade of neglect, the Windsor Arms was closed in 1991 (at which time, obviously, it was available for rental as a film site). It was purchased in 1995 and largely rebuilt except for the frontage and vestibule, which remain as they are seen in "Feeding the Beast". Today, the Windsor Arms is once again a luxury hotel, voted the #1 Hotel in Toronto by Condé Nast Traveller Magazine in 2007.
Ad blocker interference detected!
Wikia is a free-to-use site that makes money from advertising. We have a modified experience for viewers using ad blockers

Wikia is not accessible if you've made further modifications. Remove the custom ad blocker rule(s) and the page will load as expected.