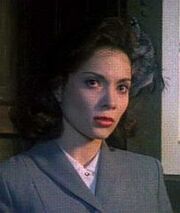 Winnipeg is a city in Canada, capital of the province of Manitoba. In the episode "Forward Into the Past", Aristotle created the new identity of Natasha Perry for Katherine Barrington's secretary Madelyn Pinchot. The details included her having been born in Winnipeg. There is, however, no evidence that she ever actually lived there: Aristotle's false identification was extensive, but also included her attending university in Montreal.
Certainly, by the time of "Forward Into the Past", Madelyn Pinchot (or Natasha Perry, as she was now known) had long since returned to Toronto, and was well established there in a new career as a fortune teller.
The History of Winnipeg
Edit
Winnipeg lies at the confluence of the Red and Assiniboine Rivers, an historic focal point on river routes for thousands of years. The name Winnipeg is a transcription of a western Cree word meaning "muddy waters". French trading posts were established in the mid eighteenth century; and the Frenchmen married women from the First Nations. Their children, called Métis, initially took prominent roles as mediators between cultures as settlement expanded.
The first English traders visited the area about the year 1767; and there was considerable rivalty between the North West Company and Hudson's Bay Company until their merger in 1821. Fort Gibraltar (later called Fort Garry), was established by the North West Company on the site of present-day Winnipeg. It became the leading post in the area for the Hudson's Bay Company.
The first permanent settlement was the Red River Colony, on land granted to Lord Selkirk by the Hudson's Bay Company. Although not itself particularly successful, it was the foundation of further settlement that led eventually to the establishment of Manitoba. Winnipeg was incorporated as a city in 1873.
In 1869–70, Winnipeg was the site of the Red River Rebellion, a conflict between the local provisional government of Métis and the newcomers from eastern Canada. The rebellion (which represents the first stage in the troubles that would re-emerge in the later North-West Rebellion) led directly to Manitoba's entry into Confederation as Canada's fifth province in 1870.
The Canadian Pacific Railway completed the first direct rail link from eastern Canada in 1881, opening the door to mass immigration and the settlement of the Canadian Prairies. Winnipeg rapidly grew into the principal city in the province. Following major floods of the Red River in 1950 and 1997, it is today protected by a floodway system.
Adapted from the Wikipedia article on the history of Winnipeg.
Ad blocker interference detected!
Wikia is a free-to-use site that makes money from advertising. We have a modified experience for viewers using ad blockers

Wikia is not accessible if you've made further modifications. Remove the custom ad blocker rule(s) and the page will load as expected.