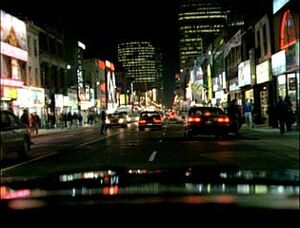 Yonge Street (pronounced "Young") is a main north-south thoroughfare in Toronto. It runs from the lakeshore straight northwards, neatly bisecting the city into east and west. Roads perpendicular to it are numbered in an easterly and a westerly direction starting at Yonge. From the perspective of Forever Knight fans, this is significant because it applies to Queen Street, on which the 96th Precinct police station is located. Yonge Street is frequently considered to be Toronto's main street, because of its position dividing the city east and west, and the presence of the Yonge subway line.
In numerous street scenes, Nick is seen driving his car along Yonge Street in downtown Toronto, most usually in a southward direction. However, the street featured more prominently in Sons of Belial.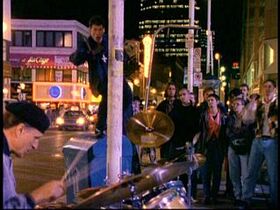 Sons of Belial opens outside the Eaton Centre, a large multi-storey shopping mall that runs on the west side of Yonge Street from Dundas Street (north end) to Queen Street (south end). The band that is shown in the opening shot is playing in the paved area near the north end of the mall.
Melanie Sawchuk's car is parked in Massey Lane, an alley nearby. She appears to be unconscious; but, when Officer MacIsaac investigates, she nearly runs him over, and drives off heading south. Eventually, she drives her car off the Gardiner Expressway.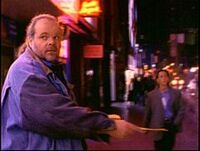 When her body is identified, Nick and his partner, Tracy Vetter, go to find her brother Eric in order to notify him of her death and ask him about her mental state. They discover him a block north on the other side of the street, handing out religious pamphlets outside a strip club, probably the Zanzibar Tavern. Just visible down the street is the neon sign outside Sam the Record Man: two giant records, which were designated a heritage site when Sam's closed in 2007.
History of Yonge Street
Edit
Yonge was originally built as a military road, running from Eglinton Avenue north to Holland Landing (originally named St. Albans). Work began in 1795, and was completed the following year. The road was extended south to Lake Ontario in stages as the land was drained, reaching the harbour in 1812. Further northward extensions took Yonge Street (under a variety of names) north to Barrie, then up to the Muskoka district, and around Georgian Bay. As a modern highway system was developed, this became the route for Highway 11; and twentieth century extensions take the route as far as Rainy River, on the border of Minnesota. As a result, Yonge Street has sometimes been called the longest street in the world.
Ad blocker interference detected!
Wikia is a free-to-use site that makes money from advertising. We have a modified experience for viewers using ad blockers

Wikia is not accessible if you've made further modifications. Remove the custom ad blocker rule(s) and the page will load as expected.